A* Grade Challenge
If you haven't read my '
how to suck at getting an A grade
' post yet, then let me fill you in on the basics.
The short, painful version:
For the entire first year of 6th form - I wanted A's. (That was short and to-the-point OK).
And well - let's just say, I fell flat on my face. I crashed and burned. I fell - into a well?
Here are the Non-Straight-A offenders that I'm talking about:
English Literature - A (this was a slight miracle, I won't lie. *If you have NO idea what I'm talking about,

then read about my English nuclear disaster story here

*)
Art - B
Psychology - B
Economics -
D
[They're AS-Level grades by the way, not full A-levels - yet! I also did an Extended Project Qualification a year before these exams and got an A, so that's another grade]
And you know what?
It was so DUMB that I studied at the last minute, that I wasted all of my free study sessions talking (yes, The Daily Mail and Kim Kardashian were involved. You have permission to throw something at me) and that I put NO effort into any of my courses until the last few months - and still expected to get the highest grades *cough* delusional.
But am I willing to let this stop me from getting straight A's now?
No no no, no no no, NO. (Are we clear, future Sanam?)
SO THIS YEAR (starting from September the 3rd), I AM ON A MISSION - TO TURN THOSE UGLY, SOUL SUCKING B'S AND D'S INTO AMAZING A*'s.
And not just ANY old A*.
A 100% A*.
YOU HEARD ME RIGHT.
I am going to crazy land to try and get 100% of the marks in English Literature, Art and Psychology (Economics has now dropped off the face of the earth *aka my studying schedule*. Good riddance).
Sure, I've never done anything like this, or achieved anything that high before. I am literally 'that person that just about scrapes an A'.
BUT - I'm prepared to do this.
After all, extraordinary results require extraordinary efforts.
So every day, from September until the July final exams, I will be studying like an (awesome) nut job, practicing and working until I hit that 100% mark, trying out every tactic (hey, legal ones only ok. What do you take me for? Ok don't answer that) and strategies I can get my hands on.
And I'll be blogging about the entire thing, every month: what worked, what didn't, what was a freaking waste of my time, and what worked miracles at boosting my grades.
A what-to-do and what-NEVER-to-do list, every month, which you can use to boost your own grades (woohoo, Team Nerds).
But - I need your help.
I don't want to burn out and give this up after the first few months (which has happened to so many of my goals in the past).
Which is why I'll be blogging about it. It's a way for me to FORCE myself not to quit, because I know that I've made it public now.
I need public accountability - someone to say 'SANAM, DID I HEAR THAT YOU HAVEN'T DONE ANYTHING OTHER THAN WATCH 'THE JEREMY KYLE SHOW' THIS WEEK? GET READY FOR A CYBER SLAP AND GET BACK ON THAT STUDYING...HORSE (wut), CAPICHE?'
So every month, would you fancy giving me a cyber slap when I desperately need it (hey, who doesn't want to do that every once in a while)?
And would you love to know what it takes to become an A* student? And replicate that success?
*cue creepy voice*
Then joinnnnn meeeeee.
I promise it will be fun, and (don't puke) ed-uc-ation-al.
So...are you in?


Pop your email in the box, get strapped in for some awesome weekly emails from yours truly about getting your mega success hat ON, and reply back (I promise I'll respond!) with questions, cyber slaps or whatever else is on your mind.
Got it? Good.
I'll see you over there!
Wait. Did I hear you say "Sanam, heck I want A*s / [insert dream grades] too, HOW CAN I GET MORE OUT OF THIS CHALLENGE?!"
1. Start an A* Grade (or whatever grade you're aiming for) challenge on your blog too and document your progress each month/term.
2. Add this badge of honour to your blog (by copying and pasting the code in the box onto your site) so that new readers can join in if they fancy a trip on the crazy train with us, ha!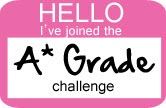 3. List your blog below so that we can catch up with you and your progress regularly, and new readers can find you:
Ps. If a friend of yours is struggling to get the grades that they want then give 'em a nudge and Tweet/email/Facebook/'whatever social network we're on today' them with a link to this page.
It might just be the push that they need!
Disclaimer to stop yours truly from getting cyber-beaten-up:


[Before anyone says 'what are you moaning for - these are great grades!' I just want to say that yes, they're good! But I didn't push myself as hard as I could have, and that's the

real

disappointment, because I could have done better.

And also, if you have a B/C/D/etc and you're happy with it then honestly, I think that's brilliant. This post is by no means saying that anything less than an A/A* is insignificant!

]
'A* Grade Challenge' posts so far:
Year 1 of A-level courses:
Month 1
(Progress made in November 2013)
Month 2

(Progress made in December 2013)
Month 3

(Progress made in January 2014)
Year 2 of A-level courses:
Starting in September 2014!
My grades after 1 year of doing the challenge:
So here's the grades I pulled out of the envelope on results day on Thursday 14th August 2014:
Psychology - A
Sociology - A
Government & Politics - A
Religious Studies - A
Classical civilisations - B
History - B (however I'm planning to retake one of the History exams to boost this to an A)
In total (so that's qualifications over the last 2/3 years), I have 6 A's, 3 B's and 1 D at AS-level.
Ps. because these are AS grades, and not full A-levels just yet, it's not possible to get an A* at this stage. So the A* grade challenge isn't complete just yet!
This September (2014), I'll be starting my A2 year (the final one!) and after this I'll be receiving my final A-level grades. The goal is to take 6 subjects this year and get 6 A*'s.
Fingers crossed!
(Image courtesy of
The Sartorialist)
---
---